Overview of DEI Group
The Ecological Forecasting Initiative recognizes that a diverse community brings different expertise and experience towards ecological forecasting; we see such diversity as a benefit, and necessary to the development of a diverse and inclusive community of interest and practice. Thus, we welcome all participants, and encourage patience and tolerance among all, holding curiosity and respect as the cornerstones of personal and professional growth.
An iterative approach works not only in the process of ecological forecasting, but if we adopt a mindset to continually engage with people of different backgrounds, get input, revise our efforts, we will become a more diverse community.
The Strategic Plan provides an overview of the steps the DEI Working Group is taking to promote diversity, accessibility, and inclusion in EFI.
DEI Working Group Schedule of Calls:
The DEI Working Group will meet on Mondays at 11am US Eastern on September 18, October 16, November 20, and December 18. A new schedule of calls will be developed for January to May 2024. We are always open to people joining the calls, contact us at eco4cast.initiative@gmail.com
The EFI Diversity, Equity, and Inclusion Working Group has been diligently developing this post over the past year. Our goal in the blog post is to spark perhaps new considerations for the EFI community about what the barriers to ecological forecasting are and ways to begin addressing those barriers. This is an ongoing and iterative process that we want input on from the EFI community. What part about the human component of ecological forecasting or the impact of ecological forecasts for humans do you most care about? Is it missing from the barriers or figures shared in the post? We welcome comments, suggestions, and feedback on these ideas presented. Our future goal is to turn this post into a manuscript that builds from these ideas and we invite anyone that would like to share comments or participate as a co-author in the manuscript effort to reach out to us in the comments on the post or at info@ecoforecast.org.
Book Groups
The EFI DEI Working Group hosts book groups that read books on topics relevant to diversity, equity, and inclusion academia, science, and ecological forecasting. Typically the book groups meet in June-July each year.
For 2023, the EFI DEI Working Group hosted a book club to read "97 Things About Ethics Everyone in Data Science Should Know" edited by Bill Franks in July 2023. The book provides short commentaries by contributors about experiences and lessons learned from collecting, managing, and analyzing data ethically. The goal of the book is to "help readers understand the importance of applying proper ethics to analytics and data science initiatives." The goal of the reading clubs are to provide an opportunity to learn and discuss these ethical issues and consider how they apply to ecological forecasting and data science.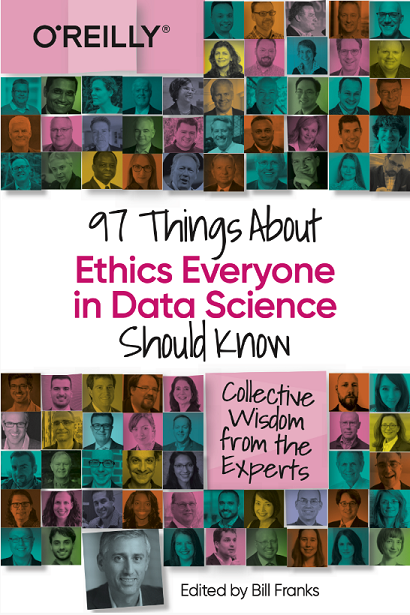 Previous books include:

DEI Resources and Blog Posts
Conversations on Diversity and Data Seminar Series
The EFI Diversity, Equity, and Inclusion Working Group hosted a 4 part virtual seminar series to foster conversations, actions, and making community connections that help promote diversity within ecological forecasting. The 4 session topics and links to recordings of the panels and resources shared are listed below.
Bibliography
This Bibliography is a living document that provides resources for learning more about anti-racism and the diversity status of fields relevant to ecological forecasting. These resources include lists of minority supporting associations, links to diversity and inclusion plans from professional societies, blog posts, publications, and compiled lists of resources from other organizations. If there are additional resources you have found useful, submit them through this Google form.
You can find the publications in the Bibliography tagged as "EFI DEI Paper" in the publicly-open Ecological Forecasting Initiative Bibliography Zotero group library
Blog Post and Video Resources
Notes from Working Group Calls
Co-Chairs: Diana Dalbotten (University of Minnesota), Jason McLachlan (University of Notre Dame)
September 17, 2019 – joint DEI and Education Working Group call
July 12, 2019 – joint DEI and Education Working Group call