EFI Education Working Group Publication
A list of Inclusive Pedagogy Resources
A compiled list of over hundred educational resources related to Ecological Forecasting
2-page pdf overview of what ecological forecasting is and potential careers as well as examples of courses that is a starting point for students to learn more about the concepts and statistical and computational tools used in ecological forecasting
Infographics to support teaching and learning biostats in R
Example syllabi for ecological forecasting courses
Publication
Willson, A. M., H. Gallo, J.A. Peters, A. Abeyta, N. Bueno Watts, C.C. Carey, T.N. Moore, G. Smies, R.Q. Thomas, W.M. Woelmer & J.S. McLachlan. 2023. Assessing opportunities and inequities in undergraduate ecological forecasting education. Ecology and Evolution, 13, e10001. https://doi.org/10.1002/ece3.10001
QUBES Resources
A number of the Educational Resources are available as open educational resources on the QUBES platform. You can access the resources on QUBES individually below or find all of them compiled on QUBES here.
Inclusive Pedagogy Resources
HERE is the list of Toolkits, Papers, Discussion Techniques, Course Design, and Strategies and Principles. This list of resources was compiled for the EFI RCN Inclusive Pedagogy Workshop held on June 7, 2021. Recordings from the presentations from the Workshop are available HERE.
Educational Resources
HERE is a list of over one hundred educational resources related to Ecological Forecasting. You can also access this resource on QUBES.
Resources include course material, videos, code repositories, modules, and online textbooks.
Resources are organized around concepts of forecasting, basics of R, Python, ecology, and statistics, data sources, data skills, model building, the forecast cycle, applying forecasts, and using decision science or interpreting forecasts as end-users.
Resources are categorized as Introductory, Intermediate, and Advanced
Ecological Forecasting Overview and Examples of Useful Courses
This 2-page pdf provides an overview of what ecological forecasting entails, the types of careers ecological forecasters have, and examples of courses undergraduate and graduate students can take to learn concepts and statistical and computational tools in preparation to learn ecological forecasting. This resource was developed for undergraduate and graduate students and to be used by academic advisors to share with their students. This living document created by the EFI Education Working Group in 2021 will be updated as needed. Email suggestions for the document to eco4cast.initiative@gmail.com. An archived version of this pdf is available as a QUBES Resource cited as:
Sjodin, A., Haber, L., LaDeau, S., Willson, A., Lofton, M., Moore, T., Tabares-Mendoza, O., Dalbotten, D., McLachlan, J., Dietze, M., Peters, J. (2021). Ecological Forecasting Student Resource: Overview of Forecasting, Potential Careers, Helpful Courses. EFI-RCN: Ecological Forecasting Initiative Research Coordination Network, QUBES Educational Resources. doi:10.25334/8VRF-WS31
Are you learning R, do you teach Biostats with R, or are you thinking of teaching Biostats with R? Here are suggestions and infographics you can use for support. This project was led by EFI Member Olivia Tabares and the Education Working Group and is also available on QUBES.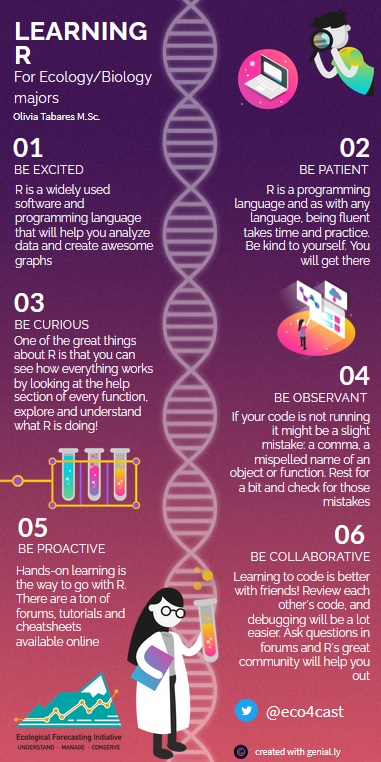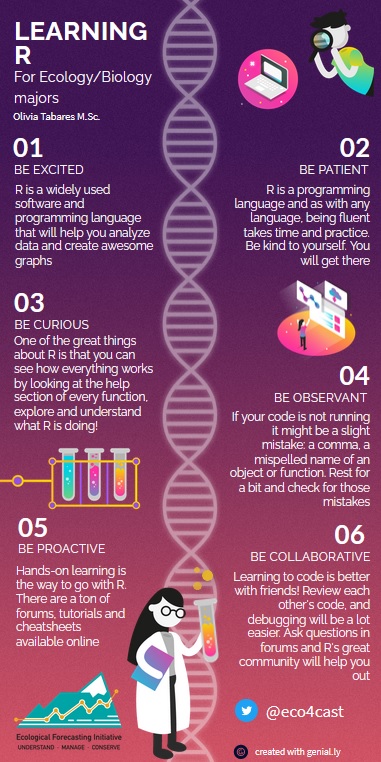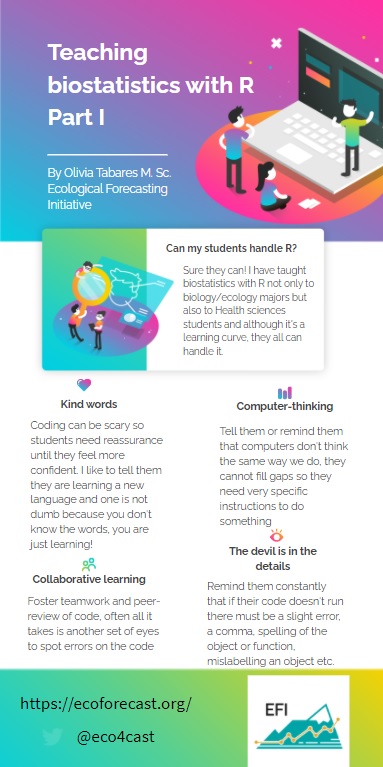 Examples of Ecological Forecasting Courses and Syllabi