Presentation on Visually Communicating Forecasts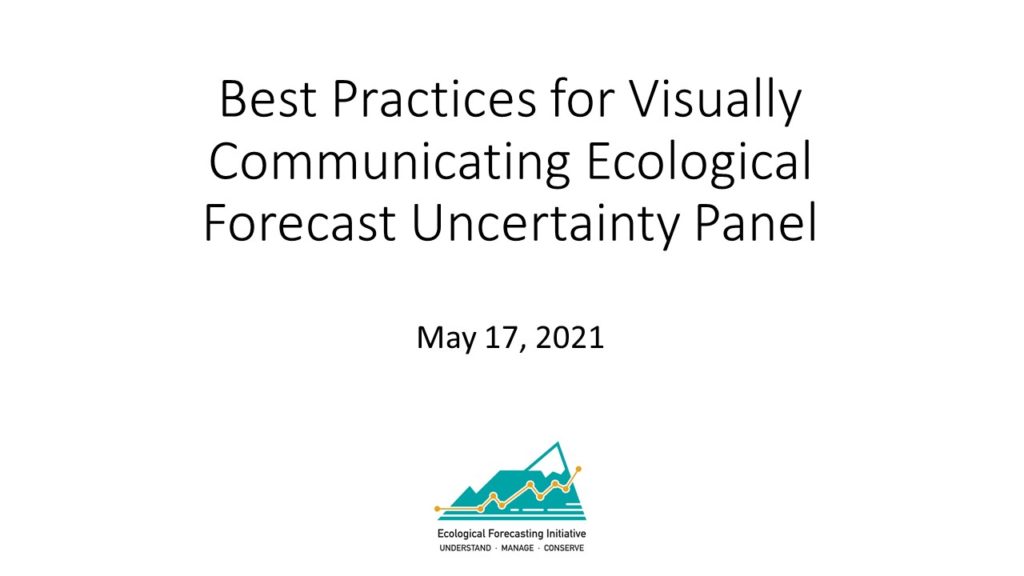 The Social Science Working Group hosted a virtual panel on May 17, 2021. The panelist shared results from recent experiments assessing the efficacy of ecological forecast visualizations and the development of a teaching module for undergraduate students to learn about visualizing uncertainty in forecasts. A recording of the panel and resources shared by the panelists are available HERE.
Overview of the Social Science Group
Social science is an important component in ecological forecasting to both improve the prediction of the forecasts as well as to increase the understandability and usefulness of the forecasts for decision-making. By social science, we encompass a range of human-focused disciplines, including, but not limited to, decision science, geography, economics, and others. The Social Science Working Group is focused on: developing methods, interdisciplinary collaboration on improving ecological forecasting models, co-production with stakeholders who may or will use ecological forecasts, developing and testing new ecological forecasting decision support products, and improving the tools and processes that advance the use of forecasts in environmental decisions.
The Social Science Scope of Work provides an overview of the priorities of the Social Science Working Group. It is a living document that will be updated as tasks become redundant and new efforts are developed.
Social Science Working Group Schedule of Calls:
The Social Science Group will have a joint call with the Partners & Knowledge Transfer Group on March 16 at noon to talk about activities related to translating research into actionable science. We are always open to people joining the calls, contact us at eco4cast.initiative@gmail.com
Social Science Blog Posts and Resources
Notes from Working Group Calls
Co-chairs: Jaime Ashander (Resources for the Future) and Kira Sullivan-Wiley (University of Notre Dame)
March 16, 2022 – joint Social Sciences and Partner Working Groups call
May 17, 2021 – the Social Science group hosted the Best Practices for Visually Communicating Ecological Forecast Uncertainty Panel
February 4, 2021 – joint Social Sciences and Partner Working Groups call

The groups used the 2015 Report to the Secretary of the Interior, Advisory Committee on Climate Change and Natural Resource Science as a jumping-off point to discuss actionable science and co-production