The Oceania Forecasting Initiative is a grassroots regional group of individuals from Australia, New Zealand, Melanesia, Micronesia, and Polynesia interested in creating and using ecological forecasts.
Find information below about Upcoming Events for the European ecological forecasting community.
Sign-up below to be added to a listserv to receive announcements about activities.
OEFI Co-Chairs: Alistair Hobday, CSIRO; Belinda Medlyn, Western Sydney University; Glenda Wardle, Sydney University

EFI has a Slack group and the OEFI has a #oceania-chapter channel. Slack is a great way to stay up to date with OEFI events, communicate within the group and across EFI, and find information about forecasting-related papers, funding, etc. Email info@ecoforecast.com to be added to the EFI Slack group and the #oceania-chapter channel.
Upcoming Events
Tuesday, 13 December – 3pm AEDT, 12pm AWST, 5pm NZDT. Register to join the call.
This community call will be a group discussion to revisit the needs and wants of the Oceania community and develop a plan for upcoming activities
Previous Events
18 October 2022: Contributed Talk by Justin Welbergen, Western Sydney University
Flying-Fox Heat Stress Forecaster and Flying-Fox Radar Monitor – applications and implications for proactive flying-fox conservation management. A recording of this talk is not available.

30 August 2022: Presentations about Data Sources for Ecological Forecasting in Oceania
23 May 23 2022: Presentations about Ecological Forecasts
12 April 2022: Introductions, ecological forecasting in Oceania, and opportunities to participate as a community.
Miro Board which shows forecasting projects and interests of the group that met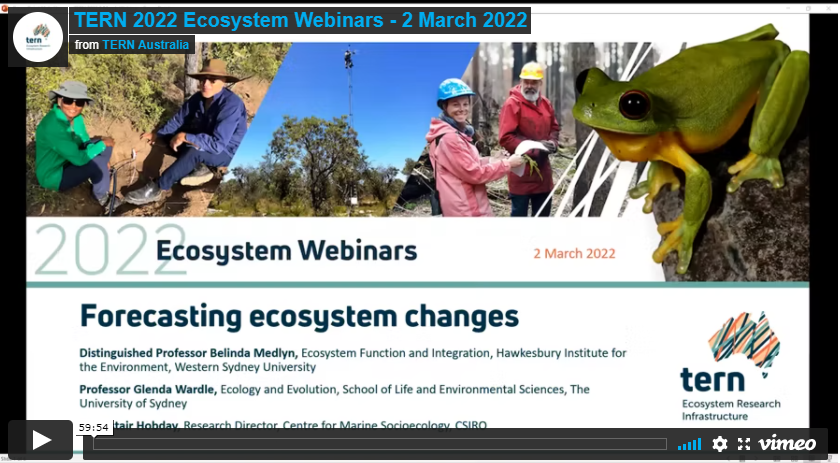 Recording of 2 March 2022 Webinar Hosted by TERN: Forecasting Ecosystem Changes