Our focus is to build a diverse community of individuals who are 1) trained on the methods, theory and decision science to create iterative near-term forecasts, or 2) trained to use the forecast predictions in management and policy. The Education and Diversity & Inclusion are separate working groups, but work closely together with a focus on building an inclusive community of practice among ecological forecasting educators and developing open, collaborative, and extensible teaching materials at the undergraduate, graduate, and professional levels. We think training in ecological forecasting is important for all ecologists, not just those actively building forecasts. For example, the approaches used to design experiments and collect data can change nontrivially if we want to inform predictions.
Education Working Group Schedule of Calls:
The Education Group will be meet on September 12, October 10, November 7, and December 5 at 11am US Eastern. A new schedule of calls will be developed for January to May 2023. We are always open to people joining the calls, contact us at eco4cast.initiative@gmail.com
Education Resources
HERE is a list of over one hundred educational resources related to Ecological Forecasting.
Resources include course material, videos, code repositories, modules, and online textbooks.
Resources are organized around concepts of forecasting, basics of R, Python, ecology, and statistics, data sources, data skills, model building, the forecast cycle, applying forecasts, and using decision science or interpreting forecasts as end-users.
Resources are categorized as Introductory, Intermediate, and Advanced
This resources is also available as a QUBES resource as: Alyssa Willson, Peters, J. (2021). Ecological Forecasting Repository of Online Educational Resources. EFI-RCN: Ecological Forecasting Initiative Research Coordination Network, QUBES Educational Resources. doi:10.25334/XAW7-JW16
Ecological Forecasting Overview and Examples of Useful Courses
This 2-page pdf provides an overview of what ecological forecasting entails, the types of careers ecological forecasters have, and examples of courses undergraduate and graduate students can take to learn concepts and statistical and computational tools in preparation to learn ecological forecasting. This resource was developed for undergraduate and graduate students and to be used by academic advisors to share with their students. This living document created by the EFI Education Working Group in 2021 will be updated as needed. Email suggestions for the document to eco4cast.initiative@gmail.com. An archived version of this pdf is available as a QUBES Resource cited as:
Sjodin, A., Haber, L., LaDeau, S., Willson, A., Lofton, M., Moore, T., Tabares-Mendoza, O., Dalbotten, D., McLachlan, J., Dietze, M., Peters, J. (2021). Ecological Forecasting Student Resource: Overview of Forecasting, Potential Careers, Helpful Courses. EFI-RCN: Ecological Forecasting Initiative Research Coordination Network, QUBES Educational Resources. doi:10.25334/8VRF-WS31
Are you learning R, do you teach Biostats with R, or are you thinking of teaching Biostats with R? Here are suggestions and infographics you can use for support. This project was led by EFI Member Olivia Tabares and the Education Working Group.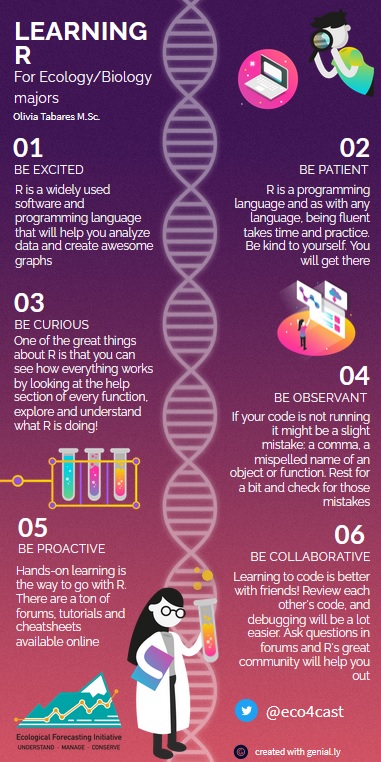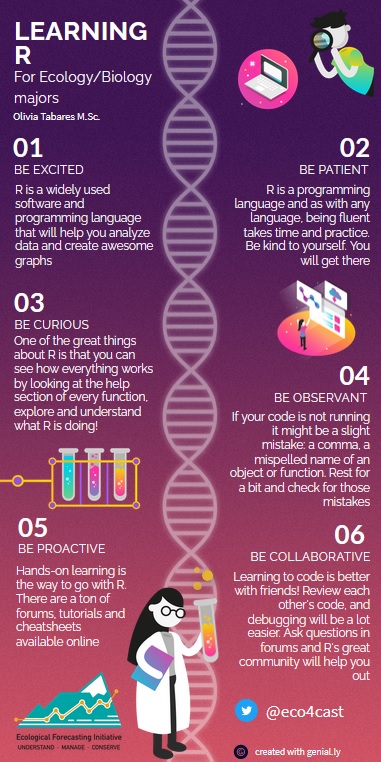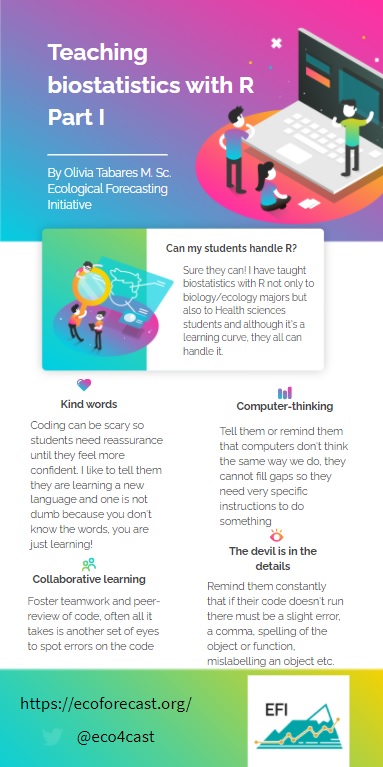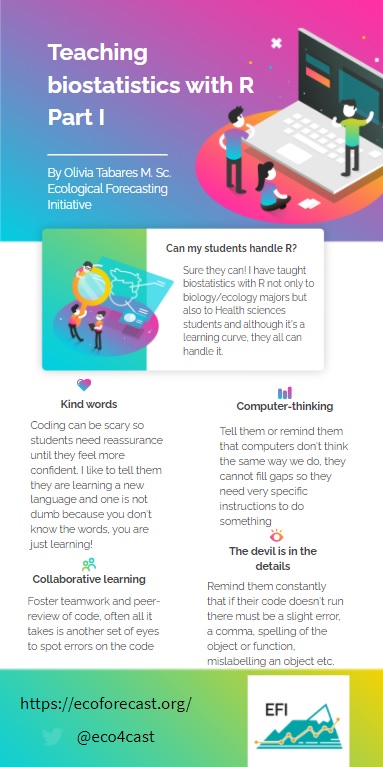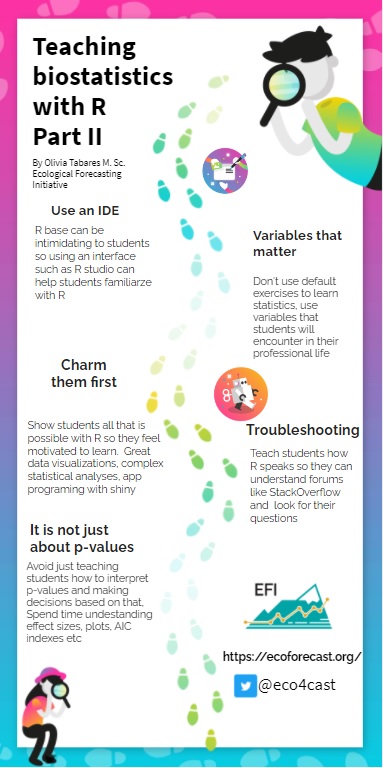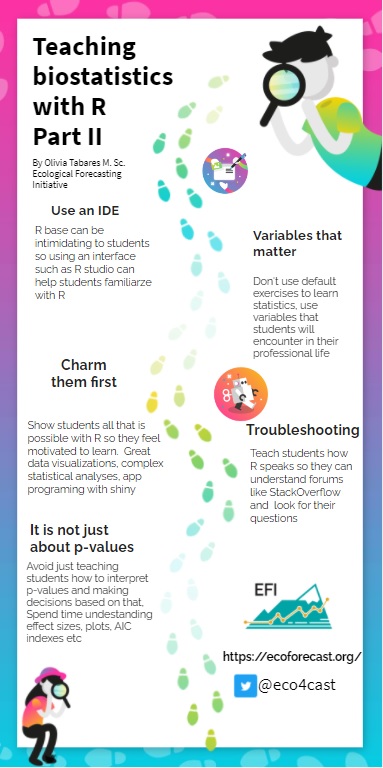 Tabares, Olivia. (2022). Are you teaching biostatistics with R? Suggestions to help you as work with your students.. EFI-RCN: Ecological Forecasting Initiative Research Coordination Network, (Version 2.0). QUBES Educational Resources. doi:10.25334/7X68-RT47
Notes from Working Group Calls
Chair: Jason McLachlan (University of Notre Dame)
September 17, 2019 – joint DEI and Education Working Group call
July 12, 2019 – joint DEI and Education Working Group call